Biodegradable Textile
Fabrics which decompose quite easily and naturally using microorganisms.
Many of today's garments are woven from plastic-based synthetic fiber, and cut and sewn in factories. All such materials are non-biodegradable. When a piece of clothing wears out or goes out of fashion, it often gets tossed in the trash after.
And the impact of what we wear goes well beyond clogged landfills.
We are a growing earth member of innovator that is turning to the genius of nature in an attempt to put wastefulness and pollution in the textile industry.

The bio-degradable fabric reduces textile waste to the environment and we even make it with more functions to offer you different kinds of requests for your end apparel products.
---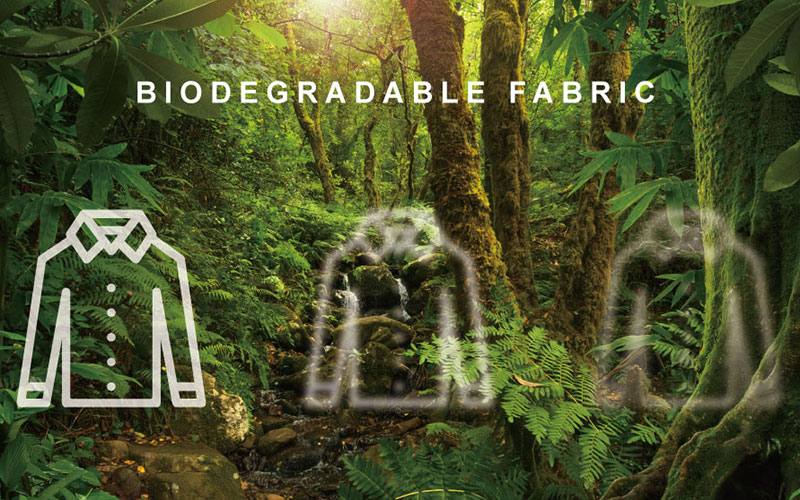 Biodegradable Fabric Features for Outdoor & Sports
Durable Water Repellent
Wicking
Stretch, Breathable, UV Protection
GRS, Bluesign, ISO 9001, Oeko-Tex certified
Material Trend
The materials trends range for sustainability.

Download
Contact Us
service@u-long.com
Biodegradable Textile | High-Tech Textile & Fabric Manufacturer - U-long
Located in Taiwan, U-Long High-Tech Textile Co., Ltd., since 1983, is a Biodegradable Textile | high-performance textile and fabric manufacturer. Main product, including high tenacity yarns, industrial and complementary textiles, knitted fabrics, sustainable textiles, woven fabrics, functional fabrics and so forth.
hyperbreeze, 3D structure fabric, anti-odor fabric and durable fabrics are U-long's specialties in the textile industry. U-long provides fabrics for outdoor activities, leisurewear and workwear that is suitable for all weather conditions and tough working environments. Textiles for baby strollers or inflatable equipment are extremely environmentally-friendly. Military and protection equipment textile products made from nylon 66 fabrics, a type of nylon yarn that simulates the rugged, fuzzy texture of natural cotton yarn have high tensile strength.
U-long has been offering customers high-quality fabrics/textiles since 1983, both with advanced technology and 48 years of experience, U-long ensures each customer's demands are met.