Solution Dyed Fabric
With less pollution, efficient productivity, and more stable quality for sustainable textile options.
Solution-Dyed fabric is using solution-dyed (aka. dope dyed) yarns which are created by adding a masterbatch colorant to the polymer melt in spinning or extrusion.
This results in fibers and filaments that are fully impregnated with pigment coming out of the spinnerets in a one-step process.
Compare with the traditional piece dye process, not only the solution-dyed fabric performing outstanding colorfastness and avoid the dye-lots difference, but you can also imagine how much water and dyestuff pollution we can save by choosing the solution-dyed fabric.
---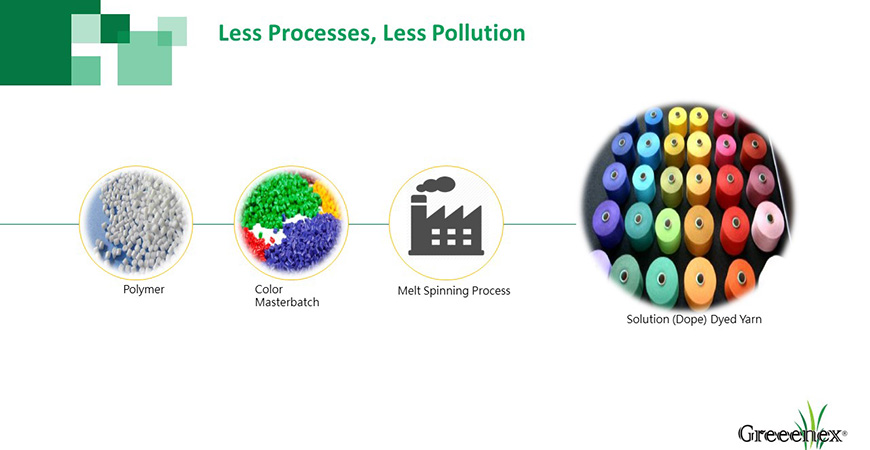 Why Do We Choose Solution-Dyed Fabric?
Solution-dyed fabrics is highly resistant to UV fade and shade changes.
Solution-dyed fabrics are fully uniform in color and typically do not vary from lot to lot.
Solution-dyed fabrics are colorfast, resistant to multiple washings and mild bleach solutions.
Energy costs for solution dyed fabric is the same as natural fabrics.
More environmentally friendly since no water is used in the solution-dying process.
---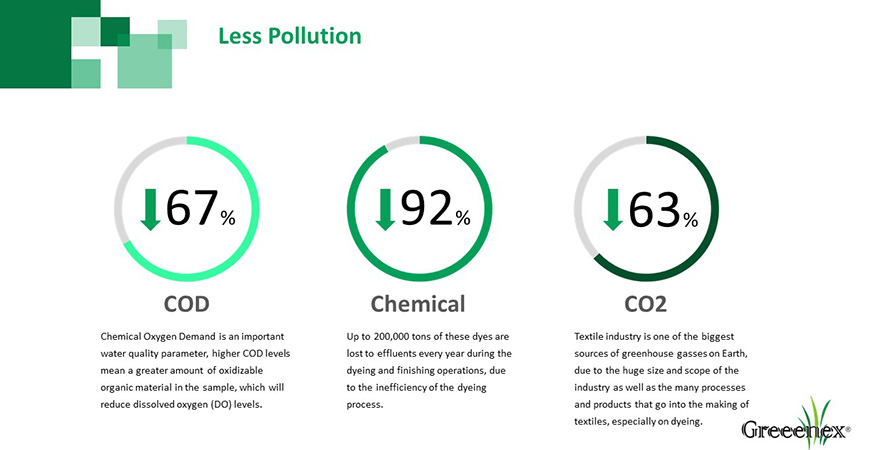 COD: Chemical Oxygen Demand is an important water quality parameter, higher COD levels mean a greater amount of oxidizable organic material in the sample, which will reduce dissolved oxygen (DO) levels.
Chemical: Up to 200,000 tons of these dyes are lost to effluents every year during the dyeing and finishing operations, due to the inefficiency of the dyeing process.
CO2: Textile industry is one of the biggest sources of greenhouse gasses on Earth, due to the huge size and scope of the industry as well as the many processes and products that go into the making of textiles, especially on dyeing.
---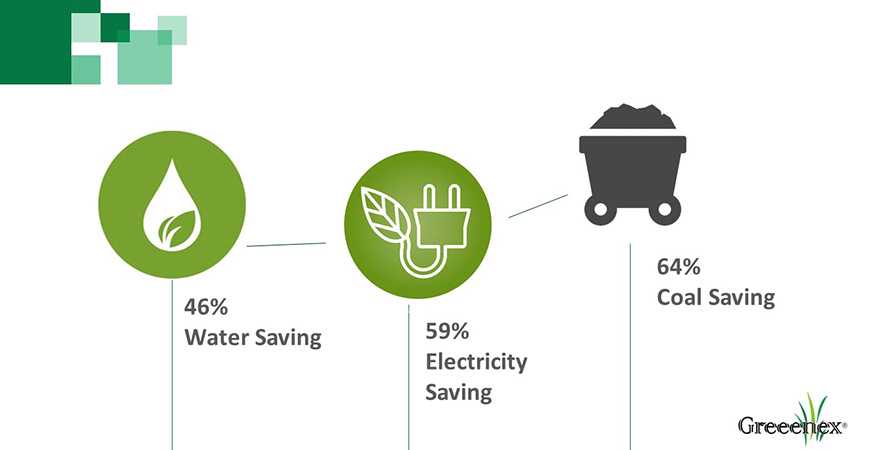 Solution-Dyed fabric for Saving Energy & Natural Resources.
---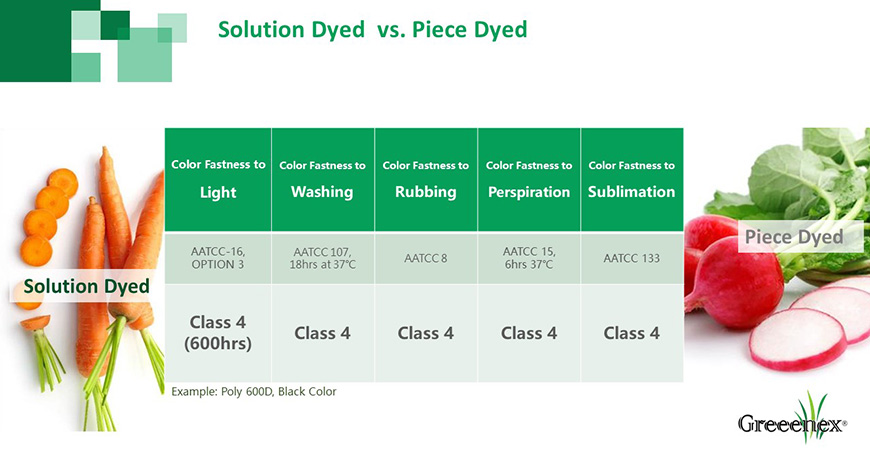 Solution-Dyed fabric for outstanding color performance.
Material Trend
The materials trends range for sustainability.
Download
Contact Us
service@u-long.com
With less pollution, efficient productivity, and more stable quality for sustainable textile options. | Taiwan Greige Fabrics & Woven Fabrics Manufacturer | U-long
Located in Taiwan since 1983, U-Long High-Tech Textile Co., Ltd. has been a textile and fabric manufacturer. Their main fabrics and textiles, include Solution Dyed Fabric, high tenacity yarns, industrial and complementary textiles, sustainable and biodegradable textiles, knitted fabrics, woven fabrics and functional fabrics, especially for the functional fabrics, hyperbreeze, 3D structure, anti-odor and durable fabrics are U-long's specialties.
U-LONG was established in 1983 as a core enterprise of Nam Liong Group. Originally founded to produce special industrial fabrics, the company gradually expanded into the field of high-value stretch fabrics through cutting-edge research and development. As being Taiwan largest, greatest and most professional woven stretch manufactory, U-LONG continuously imports diverse advanced computerized manufacture facilities and employs professional specialists. The finished fabric are for various applications including Apparel (Function & Fashion), Bags (Luggage), Shoes, Industrial use, Protection use, and Home textile.
U-long has been offering customers high-quality fabrics and textiles since 1983, both with advanced technology and 48 years of experience, U-long ensures each customer's demands are met.