Biodegradable Textile
Biodegradable polyester textile to reduce textile waste and environmental impact.
The biodegradable fabric is based on a polyester material that is biodegradable because of the addition of a biocatalyst in the yarn when is produced. That allows microbes in landfills to digest the fabric "at a rate similar to that of natural fibers" that decomposes through industrial composting without creating harm to the soil or environment, to reduce textile waste and limit environmental impact. In addition to minimizing textile waste, besides the advantage of the eco-friendly, it also keeps the functional textile performance that offers outstanding durability, insulation, and wrinkle resistance, the surface of the fabric also has a texture.
---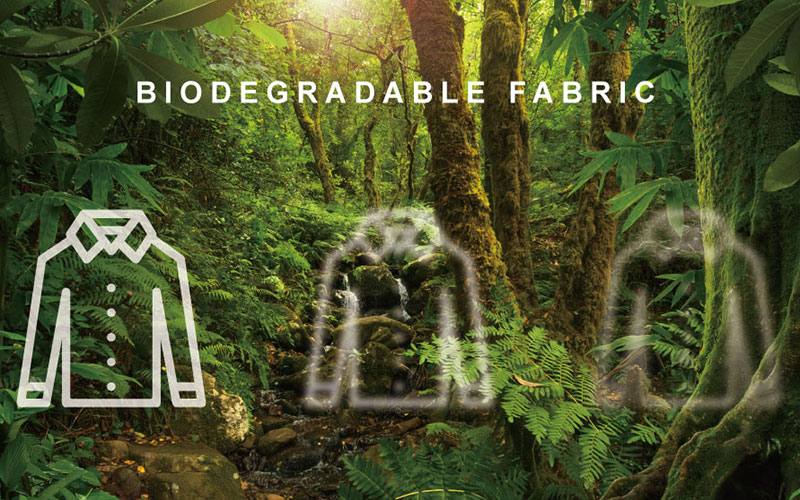 Biodegradable Fabric Features Specific
The passage of time and the right biological conditions, they would eventually biodegrade.
The fabrics will break down via the anaerobic process in the ocean.
The fabrics will break down via the anaerobic process in the landfill.
Test Method & Result
ASTM D5511 – Anaerobic Biodegradation.
ASTM D6691: Aerobic Biodegradation of Plastic Materials in Marine Environment
Material Trend
The materials trends range for sustainability.

Download
Contact Us
service@u-long.com
Biodegradable Textile | High-Tech Textile & Fabric Manufacturer - U-long
Located in Taiwan, U-Long High-Tech Textile Co., Ltd., since 1983, is a Biodegradable Textile | high-performance textile and fabric manufacturer. Main product, including high tenacity yarns, industrial and complementary textiles, knitted fabrics, sustainable textiles, woven fabrics, functional fabrics and so forth.
hyperbreeze, 3D structure fabric, anti-odor fabric and durable fabrics are U-long's specialties in the textile industry. U-long provides fabrics for outdoor activities, leisurewear and workwear that is suitable for all weather conditions and tough working environments. Textiles for baby strollers or inflatable equipment are extremely environmentally-friendly. Military and protection equipment textile products made from nylon 66 fabrics, a type of nylon yarn that simulates the rugged, fuzzy texture of natural cotton yarn have high tensile strength.
U-long has been offering customers high-quality fabrics/textiles since 1983, both with advanced technology and 48 years of experience, U-long ensures each customer's demands are met.